Bug Zapper is released on Xbox Live Indie Games!
May 17th, 2013
The latest project from Skelman Software is out and all the buzz on Xbox Live! You can check it out on the Xbox Marketplace, here.
Thanks to Michael for graphics and all the other people who helped test this game, locally, and through the XNA creators club.
I hope everyone enjoys playing it as much as we did making it. Go big or buzz home! :)
Check out a review of Bug Zapper on xblaratings.com, here.
Bug Zapper - Coming to XBOX Live Indie Games in 2013!
May 5th, 2013
A new and exciting title from Skelman Software is coming to XBOX Live Indie Games in 2013. It's Bug Zapper!
Go big or buzz home! Bug Zapper is the adventure of Skeeter, the mosquito, as he defends his fellow bugs from the unstoppable lure of the Bug Zapper. Punch and throw Bugs to their safety with up to 4 local players! Upgrade your Bug with special abilities, speed and strength to stop every bug from getting Zapped!
Bug Zapper should be coming to the XBOX Live Indie Games section on your Xbox 360 by June of 2013. Check out a gameplay video here: http://youtu.be/smjdVLUMrUo


---
Zomp 3: The Quest for Z's released on Xbox Live Indie Games!
November 15th, 2012
All the hard work over the past couple of years has finally paid off. We finally cleared the last hurdles for reviews from my fellow XNA/XBLIG developers, and Zomp 3: The Quest for Z's was approved for release on the Xbox 360, under the Indie Games section of Xbox Live.
It's a game focused on being fun, while also being a good challenge. It slowly ramps up in difficulty and puts your mind to the test, giving you 100 levels to beat, and hours of addicting game play.
The game details are on Xbox.com, here: Zomp 3: The Quest for Z's.
Please check it out, and tell your friends! :)
Success!
---
Zomp 3 - Trailer #1 Released
August 25th, 2012
I've completed the first Video Trailer for Zomp 3: The Quest for Z's.

Let me know what you think! (Try it in HD too)


Also, check us out on facebook, Zomp 3: The Quest for Z's on Facebook!


---
Zomp 3 - Making good progress
August 10th, 2012
The to-do list has been getting smaller and smaller for both graphics and coding. The game is moving along pretty well. Much of the testing has been on PCs, but the important testing happens on the Xbox 360. The game will be released initially on the 360, and it needs to be running smoothly there.

There are 100 levels designed & completed, and 98% of the graphics are finished too. The game will feature 1080p support, a unique soundtrack, and many hours of gameplay. Zomp has a new look, but I think it's an improvement. He's in HD now! :)
For screenshots & gameplay videos, check out the new Zomp 3 section.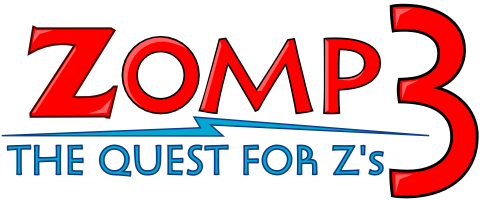 ---